The Dance of Shadows: Halloween and the World of Tattoos
Posted by PAUL PARK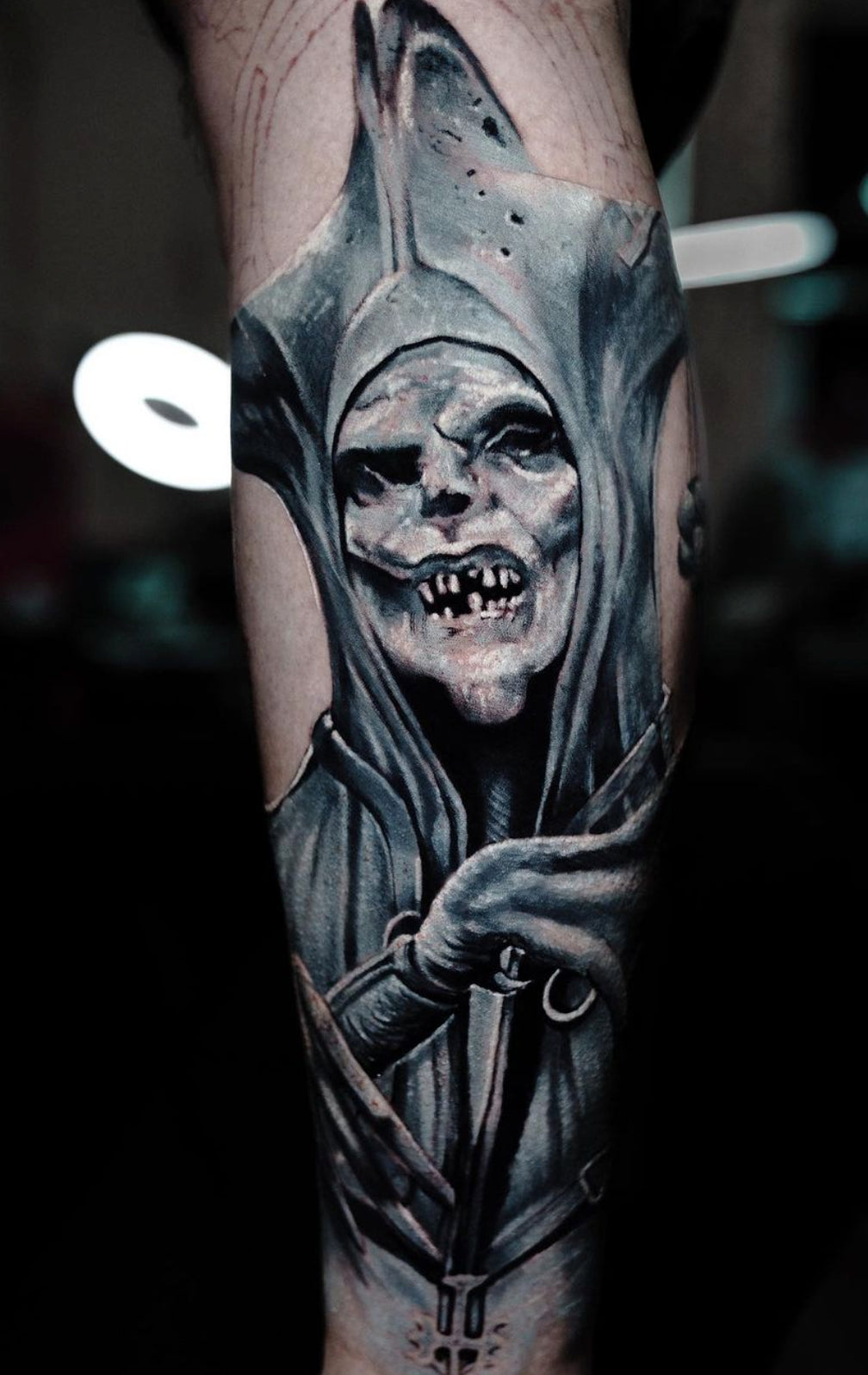 In the soft, flickering glow of jack-o'-lanterns and amidst the chilling tales of restless spirits, Halloween stands as a tribute to all things mysterious, eerie, and otherworldly. Similarly, the art of tattooing, with its deep-seated history and stories etched in ink, shares this embrace of the mystical. Let's journey deeper into the symbiotic relationship between the haunting allure of Halloween and the timeless tradition of tattoos.
Why Do Halloween and Tattoos Harmonize So Well?
At their core, both Halloween and tattoos weave narratives that go beyond the superficial. Halloween, drawing from ancient traditions like Samhain, serves as a poignant reminder of the fragile boundary between life and afterlife. Tattoos, meanwhile, immortalize fleeting yet impactful moments, beliefs, or memories onto the canvas of skin, making the impermanent everlasting.
Tattoos: A Nod to Halloween Imagery
Throughout time, the iconic symbols of Halloween – ranging from brooding witches to eerie apparitions – have been immortalized by tattoo enthusiasts. These designs not only encapsulate the spirit of Halloween but often carry deeply personal interpretations. A tattoo of a haunted mansion might take someone back to cherished childhood memories, while another of a delicate spider web might symbolize life's intricate twists and turns.
A Ritualistic Dance: Tattoos and Halloween
The act of getting tattooed can indeed be equated to a ritual. The deliberate pain, the permanence of the ink, and the stories they tell resonate with age-old ceremonies and rites. Halloween, with its own set of customs – like carving pumpkins to ward off spirits or dressing up to become someone (or something) else for a night – similarly echoes transformation and transition. Both events are transformative, albeit in different ways.
Rebellion, Expression, and Transcendence
On a deeper level, Halloween and tattoos challenge and often defy societal expectations. While Halloween offers a brief escape from our everyday selves, allowing for playful or eerie expressions, tattoos have historically been seen as symbols of defiance or non-conformity. They both signify a breakaway from the mundane, showcasing humanity's intrinsic desire to express, challenge, and redefine boundaries.
The Future: A Continuously Intertwining Tale
With tattoos gaining wider acceptance as a form of art and self-expression and Halloween's ever-growing global appeal, their interconnected tales are set to become even richer. As tattoo techniques advance and Halloween celebrations continuously morph and adapt, we might witness an even more profound convergence of these two cultural phenomena.
A Canvas of Shadows: Inspiration for Halloween-Inspired Tattoos
As the October breeze brings with it a hint of mystery and the leaves rustle with whispered secrets, artists find themselves with a renewed burst of creativity. Halloween, with its vibrant tales and eerie allure, offers an abundance of inspiration for tattoo designs. If you're an artist looking to capture the spirit of Halloween on skin, let these suggestions guide your artistic journey.
Haunting Portraits
Design Inspiration: Think of Victorian-era portraits but with a twist. Imagine faces with hollow eyes, or a beautiful maiden whose reflection reveals a ghostly apparition. Another idea could be a silhouette of a witch flying across a moonlit sky or a vintage-looking Jack-o'-lantern with an eerily carved face.
Ink Colors: Sepia tones for that old-world charm, muted oranges for the pumpkins, and deep blues for the night sky.
The Dance of the Dead
Design Inspiration: Skeletons are a staple when it comes to Halloween. But instead of the traditional skull, imagine a skeletal couple dancing, or a skeleton serenading the moon with a violin.
Ink Colors: Monochromatic shades, with occasional pops of red or gold for added drama.
Mythical Creatures and Folklore
Design Inspiration: Draw from legends of old. A chilling banshee, a headless horseman galloping in the night, or even the Mothman with its glowing eyes.
Ink Colors: Dark greens, rich purples, and icy blues to encapsulate the mystique of ancient tales.
Nature's Eerie Beauty
Design Inspiration: Trees with faces, a crow with eyes that seem to know secrets of the beyond, or a black cat with patterns of constellations on its fur.
Ink Colors: Earthy browns, midnight blacks, and starry silvers.
Symbols of the Occult
Design Inspiration: Dive into the world of the mystical. Consider symbols like the ouija board, tarot cards depicting death or the moon, or intricate pentagrams interwoven with roses. Ink Colors: Deep reds, onyx black, and mystical metallics like gold or silver.
A Whimsical Halloween
Design Inspiration: Not all Halloween designs need to be eerie. Think of playful witches on broomsticks, goblins sneaking away with candy, or a werewolf caught in the act of baking a pie!
Ink Colors: Bright oranges, candy-inspired pastels, and playful greens.
In Conclusion
The relationship between Halloween and tattoos is a captivating interplay of stories, symbols, and traditions. Both delve deep into humanity's reservoir of emotions, fears, hopes, and desires. As October's chill sets in and tattoo parlors buzz with life, it becomes evident that in every shadowy corner, there's a story waiting to be told, a memory waiting to be inked, reminding us of the beauty that lies in embracing the mystical.
For the most recent tattoo art made with Xtreme Inks by tattoo artists who are pushing the boundaries of self-expression, check out our Instagram.
For more information on our collector's tattoo ink sets, please take a look at our piece on Xtreme Inks: Artist Collections. Collection 2019 Sale 70% Off Title for image