The History of Tattoo (tatau)
Posted by PAUL PARK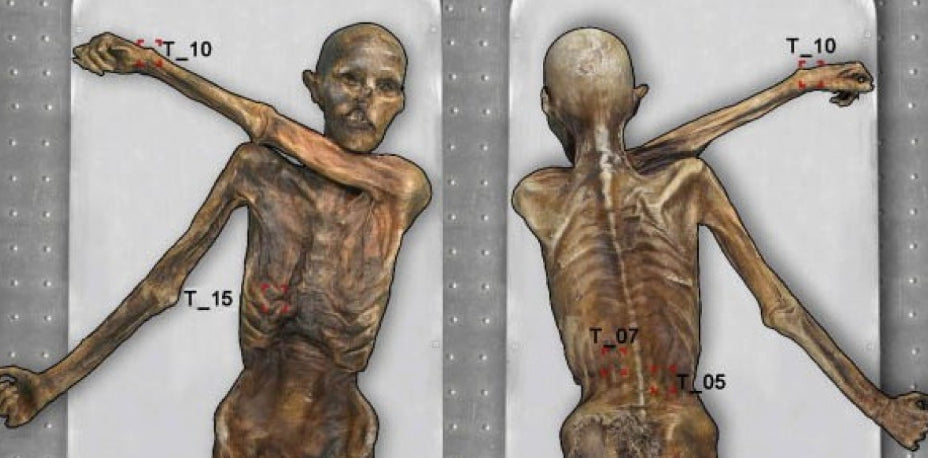 Ötzi, the Iceman, is the oldest natural mummy to have tattoos.
Tattooing has always been a tradition passed on since prehistoric times.  Initially, tattoos represented one's roles, skills, and status in society and were for superstitious purposes; however, their meaning transformed to represent individual freedom and expression.  Additionally, the public views tattoos differently throughout history, cultures, and religions.  The tattooing process also advanced since its origins, allowing for more elaborate designs, coloration, and safety. 
Prehistoric and Ancient Times
The origins of tattooing are unclear, however, historians have proven that the practice originated long before the late Stone Age (4,000 B.C.). There was evidence of tattooing on clay figures found in Romania, dating back to nearly 5,000 B.C. According to the Smithsonian Museum, the oldest evidence of tattooing was Ötzi, a natural mummy with 61 tattoos across his body. The tattoos are on his left wrist, lower legs, lower back, and torso. His discovered body in the Ötztal Alps dates back to 3250 B.C., surpassing the age of the Chinchorro mummy.

From the findings, Ötzi's tattoos are grouped on his back where he sustained joints and spinal degeneration; researchers believed that they were perceived to have therapeutic values. In contrast, the Chinchorro mummy has a mustache-like tattoo above his lip possibly for cultural and cosmetic purposes.

The tattoo materials in prehistoric times were made of natural resources, such as charcoal, soot, or plants. People used primitive tools, such as sharpened bones and sticks, to puncture their skin and insert. As the wound heals, the material remains inside the scar, finalizing the tattoo. On the other hand, people in the ancient era insert pigments and inks into their wounds with the assistance of metallic needles and tools, allowing for more precision and styling. The tattooing process in the era was the same as in prehistoric times, but certain cultures have variations. Some civilizations raised the bearer's scars to rub the tattooing material onto the desired spot.
Egyptian bronze tattooing equipment dating back between 3000 B.C. to 1450 B.C. (Source: Sin on Skin Tattoo Studio)
In prehistoric times, tattooing was widespread throughout the globe mainly due to its sociocultural, religious, or medicinal roles in societies. Many civilizations have applied and perceived tattoos differently due to their culture, religion, and history, resulting in different designs and connotations; for example, Inuit tattoos (Kakiniit) are given to women to celebrate major life events (e.g. first period, womanhood, childbirth), while on the other hand, Greeks and Romans associate tattoos with barbarians as slaves and criminals were often tattoed for identification.
Tattooing remained a familiar element in numerous cultures during ancient history. As metal and pigment became more accessible, artists can create more complex and elaborate tattoos to represent their identity and culture. Bronze tattooing equipment, such as flattened needles, was found in Egypt dating back to 1,450 B.C. Many civilizations and religions have adapted tattoos from other societies to make them their own, for example, Taiwan was introduced to tattooing before 1,500 B.C.
Middle Ages and Renaissance
Sak Yan, a Thai tattoo, still requires artists to use the hand-tapping technique to this day.
Between 509 B.C. and 476 A.D., the campaigns of the Roman Empire resulted in a decline in tattooing in Europe during the middle ages. Moreover, the emergence of Christianity resulted in the banning of tattooing by Emperor Constantine. The banning remained until  Nevertheless, the art of tattooing remained vibrant outside of Europe in the middle ages and the Renaissance era despite the missionary attempts to abolish it.
The popularity of tattooing spread through religion and colonization mainly throughout America and Asia. 
The techniques in tattooing were developed further by new artists, for example, hand-tapping which involves repeatedly striking the skin with a sharp tool to insert ink. Thai tattoos, otherwise known as Sak Yan, are one of Southeast Asia's most recognizable tattoos involving hand-tapping.
The Polynesians are considered to be among the originators and trendsetters of tattooing. The Polynesian word "tatau," which means "to carve," was altered to the English expression "tattoo." Polynesians used tattoos with symbolic designs like bands, animals, or patterns to express their identity and social standing. During Captain James Cook's expeditions in the South Pacific in the 1770s, he discovered 'Tattooed savages' living on the island; he and his men told their tales once they arrived back in Europe, and they even got their tattoos. This reignited the trend amongst the sailors.
Industrial Revolution
Samuel O'Reilly's tattooing machine, patented in December 1891, (Source: The Irish Times)
After Cook and his men's journey in 1768-1771, the public often associated tattoos with seafarers, resulting in many sailors, tradesmen, and pilgrims getting tattoos. In the process, they also reintroduced tattooing to Europe and Northern America as they stop by seaports. Additionally, sailors were considered to be superstitious as they tend to have tattoos of animals (such as pigs or roosters) or anchors as they believed to grant stability and safety.
King Edward's Tattoos?
During the Victorian era, King Edward VII and his sons were tattooed in Jerusalem and Japan, respectively. Tattoos also reflected one's social status and wealth as tattoos were often expensive, painful, and lengthy. Thus the trend of tattooing began among British royalty and socialites as they became a fashion statement". In Britain, the majority of the trendsetters were male royalty; however, as British citizens continuously immigrated to Northern America, female citizens spawned fashion in America. Despite the American indigenous population had already adopted tattoos into their culture, female colonists have managed to begin a frenzy for tattoos.
Tattooing culture slowly became a staple in Northern America in the 18th century. Tattoo parlors offered men engravings, while tattoo artists would make house calls to tattoo female clients. Advertisements of tattoos costing nearly as fine dress began popping up during the industrial revolution. Common designs for women in the 18th century were flowers, butterflies, and dragons.
Tattooing culture rapidly expanded throughout the 19th century, available to the populace. One of the early pieces of evidence of tattooed women was circuses or sideshows which involves "tattooed ladies" stripping and exhibiting their tattooed bodies to the audience, and unfortunately, women were often exploited as most American societies in the era. On the contrary, scholars claimed that tattoos allowed women to have control of their finances, career, and body. While tattooed ladies were engraved by artists, they often exaggerated how they were forcibly inked against their own will. Later on in the 20th century, the story was replaced by their experience of personal liberation and independence.
During the American Civil War, many American soldiers and sailors had gotten tattoos of patriotic symbols and their identifications. The first documented American artist was Martin Hildebrandt, a German American Union soldier. After the war, Hildebrandt became a tattoo artist and established one of America's first tattoo parlors in New York in the early 1870s. Today, New York is regarded as the birthplace of contemporary tattooing.
In 1891, Samuel O'Reilly, an Irish-American tattoo artist, invented the world's first rotary tattoo machine. Basing off of Thomas Edison's electric pen, tattooing became less painful, more efficient, and more complex. Artists can create photorealistic, precisive, or even brightly colored tattoos. The invention of the tattooing machine has had a massive effect on the tattooing industry lasting to this day.
The World Wars
Nazi concentration camps identified Jewish prisoners with numerical tattoos.
The World Wars marked a pivotal point in the history of tattoos, as they brought this ancient art form into the mainstream consciousness. During this period, tattoos gained popularity among soldiers who used them to commemorate their experiences, unit affiliations, and personal identities. Tattoos served as powerful symbols of camaraderie and resilience in the face of war. In addition to military tattoos, the World Wars also witnessed the rise of patriotic and nationalist tattoos among civilians, as people sought to express their allegiance and support for their respective countries. The widespread visibility of tattoos during this time contributed to their gradual acceptance and recognition as a legitimate form of self-expression.

Furthermore, the World Wars facilitated the exchange of tattooing techniques and designs across different cultures. Soldiers from various nations, stationed together on the battlefield, shared their tattoo traditions, creating a melting pot of artistic influences. This cross-cultural exchange led to the emergence of new styles and motifs, blending traditional tattoo practices with contemporary themes. The World Wars not only propelled the popularity of tattoos but also fostered a sense of unity and interconnectedness among individuals from diverse backgrounds, united by their shared experiences of war.


Modern Times
Michal Wurszt is a well-renowned Polish tattoo artist in the modern era.
In modern times, tattoos have experienced a remarkable resurgence in popularity and acceptance. The once-stigmatized art form has transcended its association with subcultures and countercultural movements, becoming a mainstream phenomenon. Today, tattoos are celebrated as a means of self-expression, personal storytelling, and artistic creativity. With advancements in tattooing technology, including improved tattoo machines and a wide range of vibrant pigments, artists have more tools at their disposal to create intricate and visually stunning designs.

In the contemporary era, tattoos have become deeply intertwined with individual identity and self-discovery. People seek tattoos as a way to commemorate important life events, express their passions, or honor loved ones. Tattoos have also become a means of reclaiming agency over one's body, challenging societal norms, and celebrating diversity. Moreover, the rise of social media platforms has provided a platform for tattoo artists to showcase their work, inspiring others and fostering a global community of tattoo enthusiasts.

As tattoos continue to evolve in modern times, new trends and styles have emerged. From minimalistic designs to hyper-realistic portraits, geometric patterns to watercolor aesthetics, the possibilities are endless. Tattoo artists have become revered as true masters of their craft, pushing the boundaries of artistic expression and challenging traditional notions of what tattoos can be. In this era of self-expression and creative exploration, tattoos have firmly established themselves as both a personal journey and a form of wearable art.
Author's Note
Looking ahead to the future, the tattoo industry is poised to continue its remarkable growth and evolution. As society becomes more accepting and appreciative of tattoos as a form of self-expression, we can expect to see even greater diversity and creativity in tattoo designs. The future holds exciting possibilities for technological advancements, such as innovative tattooing techniques, advanced pigments, and improved tattoo removal methods.
An intriguing glimpse into the ancient roots of tattooing comes from Ötzi the Iceman, a 5,000-year-old mummy discovered in the Italian Alps.  This remarkable archaeological find revealed that tattooing has been an integral part of human culture for millennia.  Ötzi's extensively tattooed body serves as a powerful reminder of the enduring nature of tattoo art, transcending time and cultural boundaries.  It highlights the universal human desire for self-expression and personal adornment, a tradition that continues to thrive in the present day.
As we move forward, the ancient art of tattooing will continue to captivate and inspire people from all walks of life.  Tattooing has the ability to bridge gaps between cultures, generations, and individuals, fostering a sense of shared humanity.  In an increasingly interconnected world, tattoos will serve as a visual language that transcends language barriers, allowing people to express their stories, beliefs, and passions with powerful visual symbols.  The future of the tattoo industry holds the promise of endless creativity, innovation, and a celebration of the timeless art form that has left its mark on humanity for thousands of years.
By David Jay & Paul Park, The Xtreme Team
For more information on our TATTOO INK sets, please take a look at our piece on Xtreme Inks: Artist Collections.
Other Articles:
7 Signs You're Incredibly Intelligent
Will Tattoos be Hanging in Museums Someday?
Articles:
Traditional Black Japanese Sumi Tattoo Ink
Stick and Poke Tattoos: What Inks Work Best
The Role of Tattoo Artists in Preserving and Reviving Traditional Hand-Poked Tattoo Techniques
A Tribal Tattooing Case Study: Expressing Heritage and Pride through Ink
Understanding the Cultural Significance of Tribal Tattoo Designs
The Significance of Black Tattoo Ink in Traditional and Contemporary Tattooing Collection 2019 Sale 70% Off Title for image