Tattoo Inks For Darker Hues and Dark Skin
Posted by PAUL PARK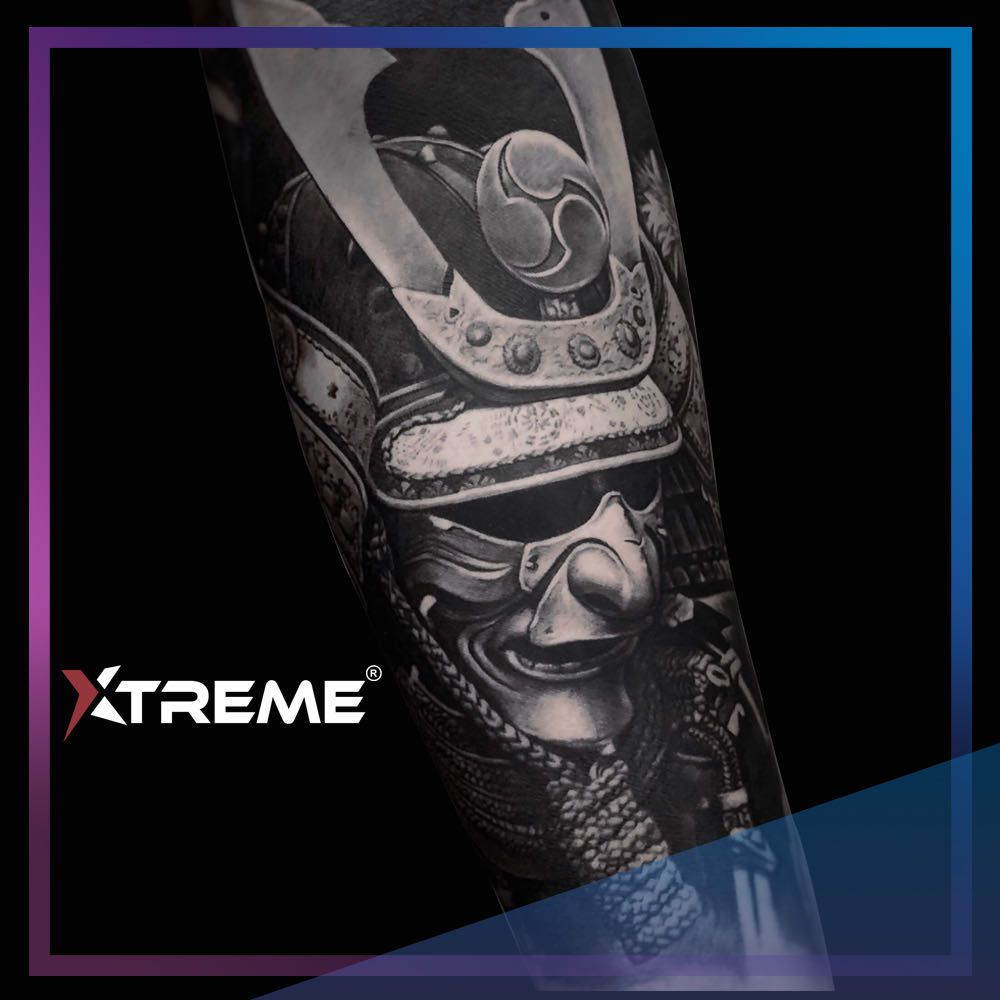 The Tattoo Tale
Tattoos are as old as the innate desire in humans to express themselves through art & words.  Ancient cultures around the world from Egypt, Nubian, Polynesia and others practiced tattooing for decorative and religious purposes.  In some cases, tattooing was associated with criminality in Japan and China.  The practice was similarly associated with pirates and jailbirds in the West until the countercultural Baby Boomers redefined it in the 60's and 70's.  The increased social acceptance of inking has since paved the road for the multibillion dollar industry we know today.
At Xtreme Inks, we are committed to promoting racial equality and justice in the tattoo industry. We recognize the need to listen to and address the concerns of of any person who could feel underrepresented in tattoo culture. As part of our ongoing efforts, we strive to learn and take transformative action to ensure that our studio remains a safe and inclusive space for all individuals to enjoy. 
How Is Tattooing on Dark Skin Different Than Light Skin?
Tattooing on dark skin presents unique considerations compared to tattooing on light skin. Understanding these differences is crucial for both artists and clients to achieve the desired outcome. When ink is injected into the skin, it is viewed through multiple translucent layers, and the amount of melanin in the skin affects the visibility of the finished tattoo. With darker skin tones, it may be more challenging to see the tattoo clearly, depending on the design and colors used.
What Colors Work Well on Dark Skin?
Blues and purples often work well, providing a bright contrast against the skin tone. Overworking the tattoo should be avoided, as excessive tattooing can lead to poor healing, scarring, or keloid formation. It is essential for artists to select ink colors that complement the client's skin tone and undertones, creating effective contrast and ensuring the tattoo stands out.
Industry and Inclusivity
As the years passed, an observable trend emerged.  The body art sector was not only white dominated but catered predominantly to white customers.  In an age when diversity and inclusivity is at the forefront, it reminds us that demographic compositions often play a big part in shaping marketplace realities.  Leading brands anywhere in the world will roll out products that suit and serve their local market.  Having been founded in countries with a dominantly light-skinned population, tattoo brands unwittingly found themselves unable to meet the needs of people of color. 
"Tattoo artists that could work with darker skin hues were rare at the inception," says Georgia-based tattoo artist Craig Foster.
"When I started tattooing in the 90s, I might've known of maybe five professional African-American tattoo artists in the United States traditionally trained through an apprenticeship." 
Moreover, they hardly included their work on darker skin tones in their portfolios, according to James Spooner of Monocle Tattoos in Los Angeles.  "If they don't have any dark skin in their portfolio, they're either not proud of their work, they haven't done it, or they don't want to do it," he offers.  "There's no excuse with the internet, [because] as soon as you do a piece that you're excited about, you post it online."  Spooner has been tattooing for over 13 years. 
The tattoo business landscape made it a much tougher terrain for people of brown and black shades to maneuver.  It was already making the decision for something as permanent as skin art harder than it needed to be.  Not being able to find an artist whose work you could identify with was by far a worse turn off.
Melanin Myth
White needleworkers would keep away from darker complexions simply because they barely had experience working with the customer base.  It was easier to work on pale skin compared to the unfamiliar nuances of dark skin tones and undertones.  Clientele with medium to dark skin would often have a different ink type requirement that was either unknown or unavailable at the time. 
Moreover, drawing on white complexions did not pose the same challenge for artists.  For instance, it was still unknown that small etchings or intricate art without adequate spacing did not show well on medium to dark complexions.  This is because the more melanin on your skin, the more hidden the details would be. 
"People think, because they get this tattoo and it's on white paper, that it's gonna come out as well on darker skin," Jacci Gresham says.  "But it doesn't because… it's like having a tattoo under a tinted window."  Gresham of Aart Accent Tattoo in New Orleans, has been tattooing for over 40 years.
Arizona-based tattoo artist Anthony Michaels explains that it helps to view melanin on skin as a tint, not a canvas.  "Depending on your complexion, if you put color in there, it's not going to stay that color." he says. 
What was often overlooked is how the skin grows back on top of the tattoo during the healing process, overshadowing or diluting any color that's lighter.  For darker skin tones, this means that the colors are more likely to end up muted than lighter tones. 
Not only is tattooing darker skin quite different due to the way the skin absorbs the color and the inherent traits of the skin, tattoos on dark skin fade over time.  This natural process proved a curve ball to many inexperienced tattoo artists who were unaware that inks can fade rapidly when applied to darker skin tones.
The Best 7 Tattoo Inks for Black or Dark Skin
The myths around tattooing on darker hues have been addressed by experts in the industry.  Tattoo artists and other players have found innovative ways of developing the right inks for darker skin tones, allowing people of color to have access to embellishing body art. 
When it comes to getting a tattoo, selecting the right ink is critical, particularly for people with dark skin.  With so many inks on the market, it can be challenging to choose the right one. 
We compiled a list of the most noteworthy tattoo inks that show the best on brown and black complexions.
#1.  Xtreme Ink: The Ultimate Choice for Darker Hues in Tattoo Inks
Xtreme Ink: When it comes to creating striking tattoos with darker hues, Xtreme Ink stands out as the ultimate choice for tattoo artists.  Renowned for its vibrant and long-lasting colors, this brand specifically caters to artists seeking to achieve eye-catching designs in deeper shades.

Xtreme Ink boasts an extensive range of highly pigmented inks that excel in delivering exceptional coverage.  These inks are specially formulated to offer unparalleled richness and intensity, ensuring that dark hues remain bold and vibrant even after years of wear.  Tattoo enthusiasts greatly appreciate Xtreme Ink for its consistency and durability, knowing that their tattoos will maintain their allure for an extended period of time.
One of the key strengths of Xtreme Ink lies in its comprehensive range of tonal values. Tattoo artists can confidently rely on these inks to create various shades and achieve precise color results, particularly in the realm of darker hues.  The ability to effortlessly mix and blend Xtreme Ink colors expands an artist's palette, providing them with endless creative possibilities to explore.
In addition to their exceptional color performance, Xtreme Ink's delivery system ensures flawless results.  The ink's viscosity is specifically designed to facilitate smooth and efficient application with any standard tattoo machine, making the tattooing process seamless.  Artists can rely on Xtreme Ink to deliver consistent and reliable performance, enabling them to create intricate and detailed tattoos with ease.
Safety is always a top priority, and Xtreme Ink takes it seriously.  The brand formulates its inks to be safe for customers, users, and the environment.  Xtreme Ink products are developed in strict compliance with the latest European Union REACH regulations, adhering to the most stringent safety standards.  Tattoo artists can have peace of mind knowing that they are working with a brand that prioritizes safety.
Furthermore, Xtreme Ink proudly offers vegan-friendly products that have not been tested on animals.  This commitment to cruelty-free practices aligns with the values of many artists and clients who prioritize ethical and sustainable choices.  By choosing Xtreme Ink, tattoo artists can confidently create dark and captivating designs while upholding their commitment to ethical standards.
In conclusion, when it comes to achieving the most captivating and long-lasting tattoos in darker hues, Xtreme Ink stands as the top choice for tattoo artists.  With their exceptional color performance, comprehensive tonal range, reliable delivery, and commitment to safety and ethics, Xtreme Ink sets the standard for excellence in the world of tattoo inks.
#2.  Raw Pigments
Raw Pigments:  When it comes to tattoo inks specifically designed for darker skin complexions, Raw Pigments stands out as a trusted and reliable brand among professional tattoo artists worldwide.  Renowned for their commitment to quality and safety, Raw Pigments has earned the trust of artists who prioritize vibrant and stunning tattoo designs while catering to the unique needs of darker skin tones.
One of the key strengths of Raw Pigments lies in their dedication to using organic and vegan-friendly ingredients. By employing organic materials, these inks are formulated to complement and enhance the natural tones of darker skin complexions. Tattoo artists can rely on Raw Pigments to deliver rich and nuanced colors that beautifully blend with the darker skin, resulting in striking and harmonious designs.
Raw Pigments' powder-based formulation is particularly advantageous when it comes to tattooing darker skin tones. This unique formulation allows for fast saturation, ensuring that the ink penetrates the skin effectively and delivers consistent, long-lasting results. Moreover, the absence of acrylic-based ingredients makes Raw Pigments a suitable choice for individuals who may have sensitivities or concerns about certain substances.
Ethical and sustainable practices are at the core of Raw Pigments' brand philosophy. Their vegan and cruelty-free status reflects their commitment to offering tattoo inks that are free from animal-derived ingredients and have not been tested on animals. Tattoo artists seeking products that align with their values can trust Raw Pigments to provide high-quality inks that are both safe and ethical.
#3. Dynamic Colors
Dynamic Colors:  Dynamic has been a trusted brand in the tattoo industry since 1990, renowned for delivering high-quality tattoo inks.  When it comes to darker skin, Dynamic stands out as an excellent choice for tattoo artists seeking inks specifically tailored to enhance and complement the unique characteristics of darker skin.
Dynamic inks are known for their fine and stable formulation, surpassing other pigment-based inks in the market.  This quality is particularly valuable when working with black skin, as it ensures precise and consistent results.  Tattoo artists can trust Dynamic to deliver inks that maintain their deep black color even after the healing process, resulting in striking and long-lasting tattoos on dark or Black skin.
The premium pigments used in Dynamic inks are carefully selected to cater to a wide range of tattoo styles, making them a favored choice among new school tattoo artists.  Whether creating vibrant colors or various shades of graywash, Dynamic offers an extensive color range and exceptional quality, providing tattoo artists with the necessary tools for flawless tattoo sessions on Black skin.  Additionally, Dynamic provides the components needed to mix custom graywash inks, allowing artists to achieve the desired versatility and shading effects.
Dynamic inks boast an impressive ability to penetrate the skin quickly and smoothly when pre-dispersed.  The particles of pigment powder are broken down to an exceptionally fine level, facilitating efficient and precise application.  This attribute makes Dynamic inks highly regarded as some of the best outlining tattoo inks, frequently recommended for lining and tribal designs on Black skin.
Safety is a top priority for Dynamic.  Their inks are created using the purest hospital-grade water, which undergoes meticulous filtering, distillation, and UV sterilization processes in their facility.  This rigorous quality control ensures that the water used in their inks meets the highest standards of purity and safety, providing peace of mind for both artists and clients.
#4. Eternal Ink
Eternal Inks: Eternal Inks, developed by the esteemed artist Terry Welker from Michigan, USA, have gained the trust and recognition of some of the world's most renowned tattoo artists.  With an impressive track record spanning over three decades, Eternal Inks has firmly established itself as one of the longest-standing and most respected suppliers of tattoo ink in the industry.

For tattooing black skin, Eternal Ink stands out as the ideal choice for artists seeking exceptional results.  True to its name, Eternal Ink is celebrated for its long-lasting properties, making it a preferred option for artists who prioritize durability and longevity in their tattoo work.  When applied to Black skin, Eternal Inks showcase their resilience, ensuring that the tattoo retains its vibrancy and impact for years to come.

Tattoo artists who work with Eternal Inks on Black skin can have confidence in the ink's ability to maintain its integrity and richness, even as the tattoo heals.  This reliability is crucial for achieving the desired aesthetic on black skin, as the ink remains bold and captivating throughout the entire healing process.

With Terry Welker's extensive experience as an artist, Eternal Inks have been meticulously developed to meet the unique needs of tattooing Black skin.  The formulation of these inks is carefully crafted to enhance the beauty and intricacies of black skin tones, ensuring that the tattoo blends harmoniously and complements the natural richness of the skin.

Eternal Inks have garnered a strong reputation among tattoo artists worldwide for their consistency and reliability.  Eternal Inks delivers consistent color saturation, enabling them to create precise and striking designs on Black skin.  This consistency allows for seamless application, ensuring that the ink flows smoothly and evenly, resulting in remarkable tattoo artwork.


#5.  Fusion Ink
Fusion Inks:  When it comes to tattoo inks specifically designed for darker hues, Fusion Inks stand as the unrivaled choice, widely regarded as the best and brightest available in the industry today.  Born out of a collaboration between Adam Everett and Next Generation Tattoo, Fusion Inks have set a new standard for luminosity and intensity, elevating the art of tattooing darker skin tones to new heights.

A standout feature of Fusion Inks is their remarkable thickness, attributed to a high pigment load and the absence of fillers.  This unique quality ensures that the colors on darker skin remain vibrant and long-lasting, capturing the eye with their brilliance. Additionally, Fusion Inks excel in ease of application, allowing tattoo artists to work with precision and efficiency, creating stunning designs that enhance and celebrate darker hues.

Fusion Inks' unwavering commitment to safety and quality is evident in their meticulous formulation. These inks are free from preservatives, as well as any substances that are carcinogenic, mutagenic, or reprotoxic, ensuring the well-being and peace of mind of both artists and clients. Prior to shipment, Fusion Inks undergo a rigorous laboratory authorized certification process, further validating their reliability and adherence to the highest standards.

To maintain the utmost standards of hygiene, Fusion Inks are supplied in medical-grade, sealed bottles. Each bottle is carefully labeled with an expiry date, guaranteeing that the ink remains fresh and effective, ready to unleash its brilliance when applied to darker hues.


#6.  Solid Ink
Solid Ink:  Solid Ink stands as a trusted tattoo ink brand, founded by Federico Ferroni, a Miami-based traditional-style tattoo artist.  This brand has earned a strong reputation for its unwavering dedication to environmentally friendly practices, making it an ideal choice for artists seeking exceptional results with darker hues.

Solid Ink prides itself on utilizing only the highest quality organic pigments in their inks, ensuring vibrant and long-lasting colors specifically tailored for darker skin tones.  The inks are carefully formulated to be easy to work with and promote smooth healing, resulting in a consistent and solid outcome that showcases the beauty of darker hues.  The brand offers a diverse selection of meticulously crafted colors, aiming to achieve the best saturation and the brightest healed results.  Solid Ink's highly concentrated pigments deliver super bright colors and maximum saturation, ensuring the tattoo artwork stands out with brilliance.

With a focus on serving color realists and bold traditional artists, Solid Ink is particularly recommended for those seeking vibrant and intense colors for their tattoo work on darker skin.  The brand offers white and black options to cater to various linework and subtle white detailing needs, ensuring versatility in creating stunning designs on darker hues.


#7.  Kokka Sumi Ink
Kokkai Sumi Ink: Celebrated for its captivating black ink, Kokkai Sumi Ink has emerged as a revered choice in the tattoo industry, particularly for artists specializing in darker skin tones and designs inspired by traditional Japanese aesthetics.  Rooted in authenticity and deeply connected to the heritage of traditional Japanese tattooing, Kokkai Sumi Ink continues to be a trusted and revered companion for artists seeking to honor the art form's legacy while celebrating the beauty of darker complexions.

Originating from a storied Japanese company with a remarkable history spanning over a century, Kokkai Sumi Ink remains unrivaled in its pursuit of excellence.
Founded in 1913 by master ink maker Kojiro Nakayama, this brand has remained steadfast in preserving the ancient techniques and formulas that underpin the production of sumi ink. Kokkai Sumi Ink's unwavering commitment to craftsmanship and meticulous attention to detail has garnered immense respect from artists and calligraphers worldwide. The brand's ink exemplifies the pinnacle of quality, as each ingredient is carefully selected, including natural soot and animal glue, and meticulously processed to create an ink that is luxuriously smooth, exceptionally durable, and profoundly saturated with color.

While staying true to tradition, Kokkai Sumi Ink has expanded its product range to cater to the diverse needs of artists. In addition to its revered sumi ink, the company now offers an array of ink types, including liquid sumi ink and colored sumi ink, providing artists with a broader palette for creative expression. Regardless of the ink type, Kokkai Sumi Ink consistently delivers an archival-quality performance, ensuring deep, velvety blacks and vibrant colors that evoke a sense of enchantment and vitality.

As artists continue to champion the richness and diversity of darker skin tones, Kokkai Sumi Ink remains an indispensable ally on their creative journeys. With an unwavering commitment to excellence, blending time-honored traditions with modern innovation, this esteemed brand provides artists seeking darker hues with the highest caliber inks. Kokkai Sumi Ink is a testament to the artistry, beauty, and profound cultural significance that emanate from the depths of black ink, celebrating the captivating allure and splendor of darker skin complexions.
Photographing on Darker Skin Tones
Photographing tattoos on dark skin can be challenging due to lighting conditions. Studio lights and flashes can wash out the true skin tone, potentially contributing to the lack of diversity in tattoo portfolios. However, with practice and attention to accurate representation, artists can capture photographs that showcase the tattoo's true tones on the skin.
Author's Note
In conclusion, selecting the best tattoo inks for darker hues has become an exciting and inclusive journey. Overcoming the historical myths and misconceptions surrounding tattooing on darker skin tones, we now have a wide range of high-quality ink brands that cater to the unique needs and beauty of melanin-rich skin.
Through the offerings of Xtreme Ink, Raw Pigments, Dynamic Colors, Eternal Ink, Fusion Ink, Solid Ink, and Kokkai Sumi Ink, tattoo artists have found reliable companions in their quest to create stunning and long-lasting tattoos on darker skin. These brands have embraced the diversity of skin tones, providing vibrant pigments that enhance the natural richness of melanin.
To the talented artists who have shattered old beliefs, the ink brands that have stepped up their game, and the clients who proudly wear their dark-hued tattoos...
Together, we celebrate the progress made in the world of tattoo art, where inclusivity and appreciation for all skin tones help us decide what inks to create.
Remember, finding the best tattoo ink for darker hues not only relies on the quality of the pigment but also the skill and artistry of the tattoo artist. With their expertise and creativity, they transform ink into a canvas of self-expression.
Tattoos are not just ink on skin; they represent the celebration of personal identity and the artistry that flourishes in diverse hues.
It is important to recognize that every individual's skin is unique, regardless of its color. The skill, education, and experience of the artist are paramount in achieving the desired tattoo outcome. Ultimately, the success of a tattoo on dark skin, as with any other skin tone, depends on the individual and their specific tattoo request. By promoting understanding and inclusivity, we aim to create a welcoming space where all clients' needs and desires are respected and met.
For more information on our TATTOO INK sets, please take a look at our piece on Xtreme Inks: Artist Collections.
Other Articles:
7 Signs You're Incredibly Intelligent
Will Tattoos be Hanging in Museums Someday?
Traditional Black Japanese Sumi Tattoo Ink
Stick and Poke Tattoos: What Inks Work Best
The Role of Tattoo Artists in Preserving and Reviving Traditional Hand-Poked Tattoo Techniques
A Tribal Tattooing Case Study: Expressing Heritage and Pride through Ink
Understanding the Cultural Significance of Tribal Tattoo Designs
The Significance of Black Tattoo Ink in Traditional and Contemporary Tattooing Collection 2019 Sale 70% Off Title for image