How to Achieve Etched or Engraved Effects with Tattoo Ink?
Posted by PAUL PARK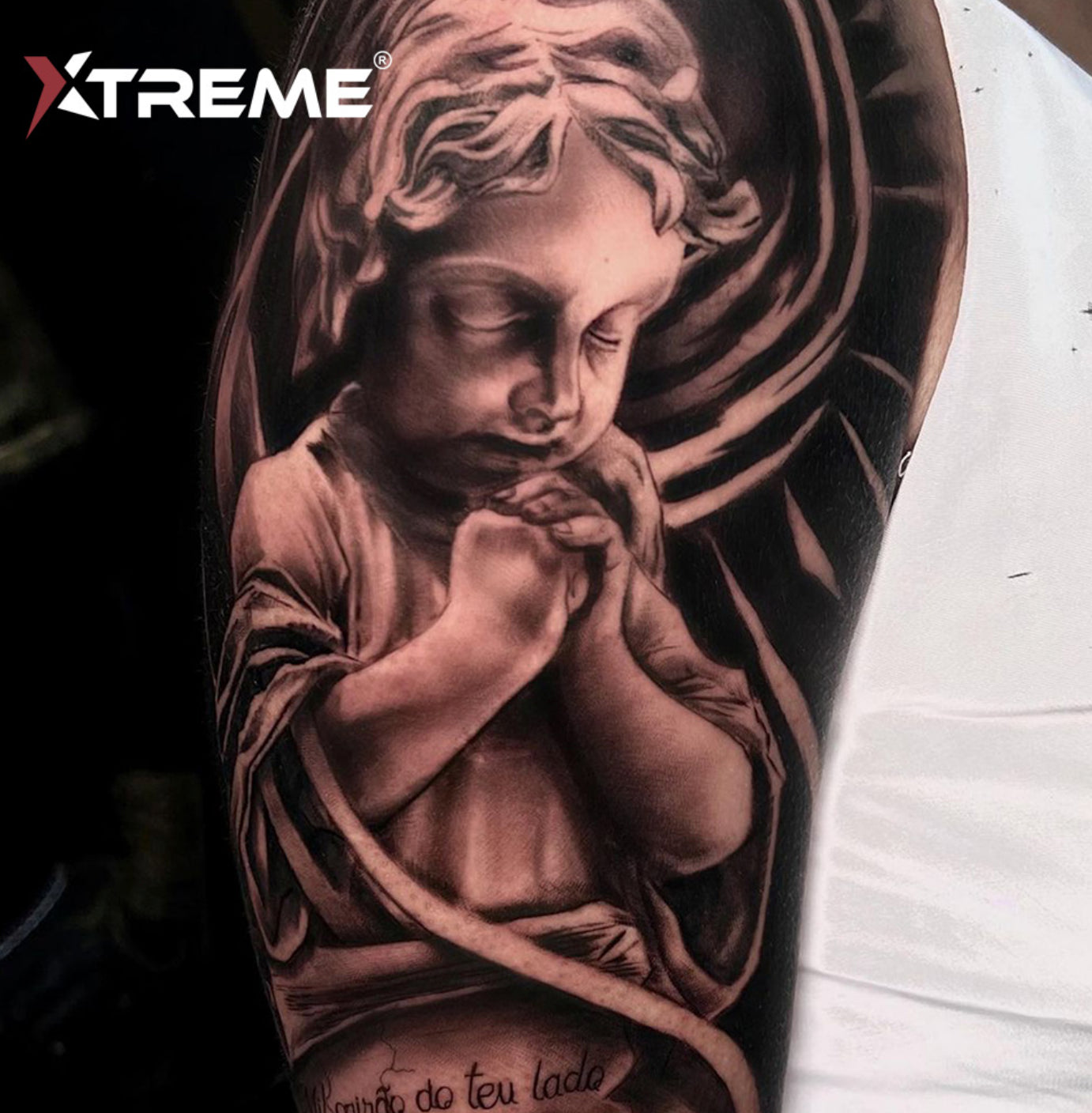 Achieving an etched or engraved effect with tattoo ink is a remarkable artistic endeavor that blends traditional tattooing techniques with the finesse of fine-line detailing. As a sponsor committed to both the artistic integrity and environmental responsibility of tattooing, we at Xtreme Tattoo Ink advocate for practices that not only create visually stunning results but also minimize ecological impacts.
The art of etching or engraving in tattooing is characterized by its intricate, line-based designs that mimic the look of carvings or etchings on stone, metal, or wood. This technique demands a high level of precision and control from the artist. The key to this style lies in creating depth and texture through varying line weights, shading, and, often, the use of negative space.
How to Achieve Etched or Engraved Effects with Tattoo Ink?
To achieve this effect, tattoo artists use fine needles and a steady hand to create sharp, clean lines that resemble cuts or grooves in a surface. The lines are often very close together and may cross over or intersect to create patterns and textures. Artists must have a thorough understanding of shading techniques to convey the illusion of depth and age that is characteristic of engraving.
Precision in tattoo technique, especially for creating an etched or engraved effect, involves a combination of skill, the right tools, and a deep understanding of the art form. To achieve such intricate designs, tattoo artists rely on various types of needle cartridges designed specifically for fine line work.
Types of Tattoo Needle Cartridges
Round Liners (RL): Round liner cartridges are essential for producing clean and consistent lines. Their configuration includes tightly grouped needles in a circular arrangement, which allows for the creation of fine lines and smooth outlines. These are widely used for intricate designs due to their ability to produce sharp, well-defined lines​.
Bugpin Round Liners: Bugpin round liners elevate precision with even finer needles. They are especially beneficial for delicate or intricate designs, such as those required for realism, portraits, or micro tattoos. The smaller diameter of these needles enables incredibly detailed lines, making them a favorite among artists specializing in fine work.
Single Needle Cartridges: For ultra-fine and delicate line work, single needle cartridges are a breakthrough. Comprising a single needle, they offer maximum control over line thickness. These are ideal for achieving realism, calligraphy-style tattoos, and other intricate designs that require unmatched precision​.
Technique and Considerations
Needle Configuration and Grouping: The choice of needle configuration significantly influences the thickness and quality of lines. Tattoo artists must experiment with various groupings and configurations to find the most suitable ones for their style and technique​.
Needle Quality and Material: Using high-quality needles, preferably made from surgical-grade stainless steel, is crucial. These ensure consistent performance and minimize trauma to the skin, which is vital for detailed work​.
Cartridge Compatibility: It's essential to ensure that the cartridges chosen are compatible with the tattoo machine in use. Opting for cartridges from reputable brands helps avoid compatibility issues and ensures reliability​.
Brand Reputation: Choosing cartridges from well-established, reputable brands known for their quality and innovation is important. Artists should research and read reviews to make informed decisions about the tools they use​.
Environmental Consideration in Materials: Environmentally responsible tattooing extends to the choice of inks and equipment. We encourage artists to use sustainable, non-toxic inks that are free from heavy metals, animal by-products, and harmful chemicals. This not only ensures the safety and health of clients but also reduces the environmental footprint of tattooing. Furthermore, using high-quality, sterilized equipment that can be either sustainably disposed of or reused responsibly is key.
Aftercare and Longevity: A tattoo with an etched effect requires careful aftercare to maintain its intricate details and depth. We advise using eco-friendly, gentle products for healing and ongoing care to avoid chemical runoff and environmental harm. Proper aftercare is essential to ensure the longevity of the tattoo and reduce the need for touch-ups, which in turn minimizes resource usage.
Education and Innovation: Continuous learning and innovation are at the core of our philosophy. We support and sponsor workshops and seminars that focus on advancing these fine-line techniques while incorporating environmental best practices. This includes the use of renewable energy in studios, recycling programs, and advocating for a more sustainable approach to every aspect of the tattooing process.
Community and Ethical Practices: We believe in fostering a community of artists who are not only skilled in their craft but also conscious of their ecological impact. This involves ethical practices in all aspects of their work, from sourcing materials to disposing of waste. We encourage a culture of transparency, where artists and clients are informed about the environmental aspects of their choices.
Parting Thoughts: Mastering the Etched Effect
Achieving an etched or engraved effect with tattoo ink is not just about the tools; it's also about the skill and technique of the artist. This style requires:
Steady Hand and Control: A steady hand is crucial for creating the precise lines and patterns characteristic of etched tattoos.
Understanding Shading Techniques: Artists must have a solid grasp of shading techniques to convey the illusion of depth and texture, which are essential in etched tattoos.
Practice and Patience: Mastering this style takes time and practice. It requires patience and a willingness to refine techniques continually.
In summary, achieving an etched or engraved effect in tattooing is a meticulous process that combines the use of specialized needle cartridges, a mastery of technique, and an artist's dedication to their craft. The choice of needle type, along with a deep understanding of line work and shading, plays a crucial role in creating these intricate and detailed designs.
For the most recent tattoo art made with Xtreme Inks by tattoo artists who are pushing the boundaries of self-expression, check out our Instagram.
For more information on our collector's tattoo ink sets, please take a look at our piece on Xtreme Inks: Artist Collections. Collection 2019 Sale 70% Off Title for image